Summer Golf Tour to Improve Your Competitive Golf
Prime Golf Academy offers to junior golfers a unique opportunity to improve their golf game and scoring ability thanks to our unique "Summer Golf Tour" in France, with 3 weeks of intensive golf and 3 official golf tournaments (Grand Prix) played, accompanied by a coach 7/7 days and 24/24 h during 21 days.
Dates & Required Level
16 July - 5/6 August 2018 (21 days).
Required level: players with handicap 9 and lower. Please note that the academy can not guarantee the acceptance of a player for the Grand Prix as this decision is taken by the French Golf Federation, according to general number of participants and their golf level. But the required level is normally sufficient to get in.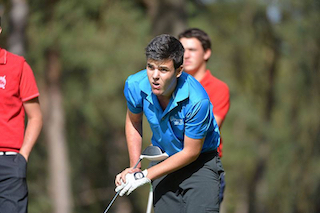 Program
16 July- 9h Departure from Mouratoglou Campus - Swing Analysis & Golf Training
17-19 July- Golf Training & Recognition Rounds (work on technics ans strategy)
20-22 July - Grand Prix of Gap Bayard
23 July Departure from Gap to Golf of Roncemay (6h drive)
24 July Debriefing and statistics - Personal Training - Recovery
26-27 July Recognition Rounds
28-29 July Grand Prix of Roncemay
30 July - 9h departure from Roncemay to Golf of Bresse ( 3h20 of drive). Debriefing and statistics - Recovery
31 July - Personal Training
1-2 August- Recognition Rounds
3-5 August -Grand Prix of Bresse
5 or 6 August (depending on the results) - Return to the academy (1h30 of drive).
Rates and Conditions
Price 3 500 €, Including 7d/7 and 24h/24 coaching during 21 days, transportation (shuttle, tolls, fuel), food and hotels for the coach, administration fees (tournament registrations, hotel reservations, etc ...)
Additional budget for personal expenses about 1 500 € . Personal expenses include practice balls, trolley rentals, green fees, hotels, meals and other expenses like laundromat, golf balls, etc. A player should have a mean of payment with him for all personal expenses.
Deposit of 50% upon registration. Balance due before June 30, 2018. Cancellation before June 30, 2018: 50% refund of the total sum. Cancellation after June 30, 2018: no refund.
Application for Non-French Players
All non-French golfers, wishing to play Summer Golf Tour, must send us their country golf handicap history. This handicap history is needed to create a French Golf licence for you. You can ask for your handicap history at your golf club or download it from your personal account on the Golf federation website of your country.